Automated Guided Vehicles
MESH Automated Guided Vehicles by Global AGV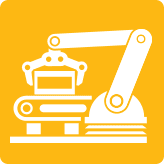 Easy automation with automated guided vehicles from MESH Automation.  Partnering with Global AGV, MESH offers complete autonomous pallet handling systems.  The AGV is at the heart of the system with conveyors, docking stations, pallet destackers and storage units all available from MESH, rounding out the solution.
Automated Guided Vehicles from MESH
With a high-quality standard product that is user-friendly, easy to install, and has a short delivery time, we welcome you to the future of automated guided vehicles. Regardless size and type of business, it is now possible for you to automate simple A-B pallet transports with the flexible and innovative Global AGV from MESH.
Improve your company's performance by investing in a bullet-proof standard product, which quite easily automates your manual pallet transports, releasing time and employee resources for other value-adding tasks. Global AGV guarantees you 60% savings on your simple pallet transports. You increase your efficiency and improve your productivity, and minimize damage and accidents – while optimizing your internal logistic needs.

Click here to download our brochure and learn more about MESH Automation's complete industrial and factory automation solutions.