LD and HD Series Autonomous Mobile Robots from Omron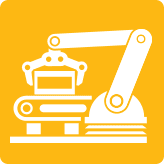 MESH offers the Omron LD and HD Mobile Robots in systems – with application-specific tops and accompanying material handling equipment and control systems.  These are self-navigating Autonomous Mobile Robots also called AMRs, designed for dynamically moving material in challenging environments that may include confined passageways as well as dynamic and peopled locations. Unlike traditional autonomously guided vehicles, Omron Mobile Robot requires no facility modifications, such as floor magnets or navigational beacons, saving users deployment costs.
MESH Self-Guided Vehicles by Omron
There are two families of machines – the LD series for each loads and the HD series for unit loads.
The LD60, LD90 and LD250 cover the range for parts delivery and parts or finished goods take away for payloads up to 250Kg. The 1,500 Kg payload Omron HD-1500 mobile robot handles the performance of simple transport, delivery, and routing operations so your employees can perform higher-value jobs. Designed to meet the industry's latest requirements, these mobile robots interact with people to promote a collaborative, safe working environment.
All models include Omron's software and controls allowing it to intelligently navigate around people and unplanned obstacles, that render traditional AGVs incapacitated and it can be programmed and functional within a day. The systems can be customized for a variety of applications and payloads. Manufacturing, warehousing, clean tech and laboratories are just a few environments ideal for the mobile robot.
For more information about the robots, click here

Click here to download our brochure and learn more about MESH Automation's complete industrial and factory automation solutions.