Automated Arc Welding Systems
MESH Arc Welding Systems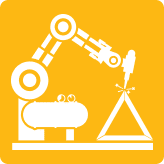 Automated and robotic welding is increasingly becoming more prevalent in the industry, especially with the large shortage of skilled welders and a more competitive marketplace.  Automation is the future for most manufacturing businesses and the only way to survive in today's markets.  It allows for higher and more consistent production, higher quality parts and allows companies to avoid the pitfalls with employee turnover.
MESH is an expert in automating arc welding processes, especially those with lower volume, but higher product mixes and achieving high throughput, while also achieving high quality.  MESH has proven methods of quick tool changes and also offers both pre-engineered and custom solutions to help customers solve their complex production needs.

Click here to download the MESH Automation MIG Welding Brochure.
For questions or more information about MESH expertise and our pre-engineered solutions please contact us or email our Automated Welding Specialist, Cody Larson, at clarson@mesheng.com.
MESH Solutions for Arc Welding
MESH can provide solutions for a wide variety of part sizes, incoming part variability, materials, production requirements, and quality requirements. MESH works with a variety of robots, welding power sources, vision and sensing products (seam finders, 2D and 3D vision, advanced analog sensors) and filler material suppliers that allow us to handle even the most complex project.
MESH is your one-stop automation firm for everything from just welding robots to basic welding cells ready for integration to fully "turnkey" solutions. Many of our solutions are also modular and are easy to move inside your factory, even with fume collection.
MESH Automation Solutions
Whether you are looking for the simplest welding cell or a fully customized production line with welding, MESH has the experience and expertise to solve welding-related issues.  MESH will do this in the most practical way without sacrificing quality or production.   
Our robotic arc welding systems focus on innovated designs, and where available, utilize pre-engineered solutions to save cost and maximize reliability and the value of the system.  We factor in aspects like the quantity of welds, current quality issues, part size, base material and the cost of human labor to develop an automation solution that will get your company a decent ROI.       
MESH CASE STUDIES FOR ROBOTIC WELDING SYSTEMS