Automated Thin Aluminum Welding Systems
MESH Automated Thin Aluminum Welding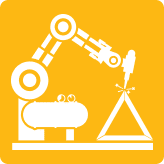 Parts constructed of thin aluminum, aluminum extrusion or thin gauge metals bring many benefits; they are cost-effective and they are lightweight.  Despite these benefits, these parts bring a unique and difficult production problem, thin aluminum or thin gauge metals are notoriously difficult to weld without running into issues with burn–through, stress cracking or poor weld strength problems.  Additionally, aluminum filler wire presents another problem, it is more prone to causing jams in the wire feeder in comparison to steel filler wire.    
MESH has expertise in thin aluminum welding and thin gauge metals.  MESH's solutions are highly reliable while still achieving reduced burn–through, increased weld aesthetics and eliminating stress cracking, while still maintaining high welding speeds.  

Click here to download the MESH Automation MIG Welding Brochure.
For questions or more information about MESH expertise and our pre-engineered solutions please contact us or email our Automated Welding Specialist, Cody Larson, at clarson@mesheng.com.
MESH Solutions for Thin Aluminum Welding
MESH can provide solutions for a wide variety of extrusions, incoming part variability, production requirements, and quality requirements. MESH works with a wide variety of robots, welding power sources, vision and sensing products (seam finders, 2D and 3D vision, advanced analog sensors) and filler material suppliers that allow us to handle even the most complex project. Additionally, because MESH manufactures all fixtures in house, MESH can produce advanced fixtures to reduce burn-through and stress cracking on aluminum parts.
Whether you need a solution to produce general structural welds or welds that appear like TIG welds and have no spatter, MESH is your one-stop automation firm.
MESH Automation Solutions
When looking for a welding cell for aluminum or thin gauge metals, MESH has the experience and expertise to solve welding related challenges and produce a reliable, productive and quality oriented solution.
Our robotic arc welding systems focus on innovated designs, and where available, utilize pre-engineered solutions to save cost and maximize reliability and the value of the system. We factor in aspects like the quantity of welds, current quality issues, part size, base material and the cost of human labor to develop an automation solution that will get your company a decent ROI.
MESH CASE STUDIES FOR ROBOTIC WELDING SYSTEMS