MESH 2D Vision Solutions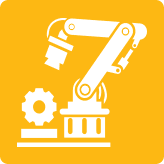 Whether it happens to be 2D or 3D, consider any type of machine vision system, and its capability and performance in straightforward terms depend on just five principal components: the lighting, an optical lens, a digital (CMOS or CCD) image capturing sensor, image processing software tools, and communication interfaces.
Now the application might involve part inspection and measurement, picking and placing, or a host of other tasks. Whatever automated action the system is ultimately designed to undertake, it first needs to reliably locate the target object within its field of view by comparing (and matching) its image with a predefined pattern. At MESH Automation we will leverage our fully equipped vision lab and our machine design/build resources to integrate a complete vision inspection solution for your needs.
This includes line scan or discrete part inspection using single or multiple cameras and the proper part presentation, work holding, or fixtures needed. MESH Automation is your partner for vision inspection and robotic guidance solutions.

Click here to download our brochure and learn more about MESH Automation's complete industrial and factory automation solutions.
For questions or more information about MESH expertise please contact us or email our Automated Inspection Specialist, Joe McHugh, at jmchugh@mesheng.com.
MESH Automation 2D Vision Inspection Solutions
In the case of a 2D machine vision inspection system, the target object image acquired for processing is effectively a flat, two-dimensional plan view. The 2D image does not provide any height information at all – there are X and Y data, but no Z-axis depth of field data.
What we see is effectively the contours of a 3D object viewed from a specific viewpoint. Different viewpoints and different objects create entirely different contours, making 2D machine vision of limited use in applications where shape information is critical to performing a task.
The lack of height and true shape information though is of course of no consequence for many reasonably simple applications. As a result, 2D (either area scan or line scan) machine vision systems are used extensively throughout the industry in a wide range of tasks. These include:
Web Inspection
Verification of features and position
Dimension checking
Barcode reading
Character recognition
Label verification
Quality inspection
Surveillance and object tracking
Presence detection
In all such applications, an accurate 2D image is derived from the variations in reflected light intensity across the target object's surface and key features. It depends on the contrasts identified in either a grayscale or color image of the object. And here is one of a few challenges for 2D machine vision systems. If 2D machine vision inspection is not enough for your application, MESH Automation offers a complete 3D vision inspection solution also.
Part ID and Part Presence Systems from MESH Automation
It is common practice to identify (ID) parts in plants and factories, not only for easy identification as they pass through the manufacturing cycle, but also to ensure traceability, authenticity, and to keep tabs on quality. Part ID is also vital in the case of product liability issues and recalls.
Part ID is vitally important, but even once parts have been identified, it is essential to ascertain that they are present in the correct place in the production line.
Both part ID and part presence vision systems can also be used to verify that all parts are present in a unit, such as on an assembled piece or in a package.
The MESH Automation team can design, build and program vision systems to solve your most difficult production challenges.
Contact us today to discuss how reliable vision solutions, including part ID and part presence, will help your business optimize productivity, increase efficiency, and potentially cut costs, increasing your bottom line.
Defect Detection by MESH Automation
2D Vision systems are an excellent option for production applications that require close inspection of parts that need a consistent application of defect identification, require 100% inspection, and the need to inspect without using human labor (due to speed, safety, or other reasons).
In defect detection, the correct lighting, shielding from variable ambient lighting, and the proper part presentation to the camera is critical. MESH has the experience to get this right.
The experienced team of engineers at MESH Automation is available to design, build, and program vision systems that may be used to identify numerous different types of defects based on the specific needs and specifications of customers. We will use our in-house vision lab to qualify the application, select the right camera, filter, lens, lighting, and software.
Line Scan Solutions from MESH Automation
Web inspection processes can be very challenging and require an experienced integrator. Typically, the can be processing speed limited if too much detection is required at a high resolution.   MESH knows these pitfalls and can design a system using our in-house vision lab. This coupled with real-life experience will bring confidence to your application.
The ability to integrate a system into an existing process is another challenge that MESH is ideally suited for.   With our machine design and build skills coupled with field technicians, we can tackle most machine retrofit projects.
For discrete products that are three dimensional but need to be analyzed in a two-dimensional format (medicine vial, beverage container.)  the product (or camera) usually needs to be rotated.   This requires solid machine design and build skills in order to meet a typically challenging requirement (such as cycle rate, product damage, orientation).
MESH has all the skills in one company to tackle all the challenges that line scan processes require. In addition, we have some pre-engineered systems that can be leveraged to bring confidence and value to your application.