MESH Marking and Tracking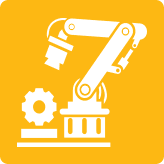 Date codes, barcodes, text, and serialization are part of every product and the need is growing. Technology is changing at a rapid pace in noncontact and contact methods making it harder to decide which methods offer the best value for your product.   Let MESH help you decide with professional advise, examples to show and the ability to turnkey integrated it professionally into your production facility.

Click here to download our brochure and learn more about MESH Automation's complete industrial and factory automation solutions.
For questions or more information about MESH expertise please contact us or email our Automated Inspection Specialist, Joe McHugh, at jmchugh@mesheng.com.
Marking and Tracking from MESH Automation
Modern methods of marking a product mostly consist of the following categories
Noncontact laser marking – Good for plastic, metal, rubber and most materials
Scribing or dot peening – Plastic and metal
Noncontact inkjet printing – materials that are compatible with the ink
Contact printing to a label and label application to the part – Product that is conducive to taking a label.
MESH has worked with all of the above methods and is an expert in work holding, fixturing and automation methodology. We are a custom machine builder with some pre-engineered products that may fit well into your product mix such as circular product marking (rotary seals, roller bearings, and similar) or label print and apply to medicine vials.
Traceability with MESH Automation
The MESH Automation team has the software expertise, experience, and products to set up databases to provide customers with traceability. This ensures greater control of manufacturing processes, compliance with industry standards, and is essential for auditing purposes.
Additionally MESH will find the best sensor for the job to detect and read the traceable element such as a bar code or text.
The databases MESH designs and build record and store manufacturing process data collected with cutting-edge Supervisory Control and Data Acquisition (SCADA) systems.
MESH works with several leading traceability software systems from different companies, specifically Wonderware, Siemens, Rockwell Software, Indusoft, and Ignition. We have extensive experience with all of these and choose the best system for each individual customer. For example:
The Wonderware Equipment Operations Module is a software module that is able to provide both traceability and operational advantages. It not only helps manufacturers capture complete records, but also facilitates quick responses to unexpected production events such as product recalls.
Ignition software is especially useful for our customers in the food and beverage industry for meeting their traceability standards. This software allows group and user security eSignatures, and it includes built-in tools for regulatory compliance with the FDA.
Contact the MESH Automation engineering team today to find out how we can help with your traceability issues.