MESH Laser Measurement Solutions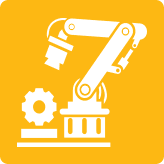 MESH Automation has used lasers to measure products or to measure the distance from a device to a product or product feature. The need for measuring a product is needed on many automation applications. Contact measuring devises such as LVDT cannot always be used in an automated environment. Lasers offer the advantage of non-contact measurement.

Click here to download our brochure and learn more about MESH Automation's complete industrial and factory automation solutions.
For questions or more information about MESH expertise please contact us or email our Automated Inspection Specialist, Joe McHugh, at jmchugh@mesheng.com.
Laser Measurement Solutions from MESH Automation
In some cases, the measurement is used as a quality guide to reject or accept a part after processing. Additionally, it has been used by MESH to identify a product (correct gauge or height) so the machine can be configured automatically for processing it.
MESH's experience in measuring products is extensive and is rooted in our machine tooling DNA.   Thermal expansion, tooling tolerances, process variability and selecting the right laser model are all factors in integrating the correct solution. Lasers are just one tool in the toolbox that we use when the challenge presents itself.